Meet the team at Walks of Life Chiropractic
It's always exciting to meet the team behind a company, and that's especially true for us. Our team is made up of talented and dedicated individuals who are passionate about what they do. We come from diverse backgrounds and bring a wide range of skills and experience to the table. Together, we're working to create something truly special. We invite you to learn more about our team and see what makes us tick.
Stephanie Parent, DC, ACCC/AVCA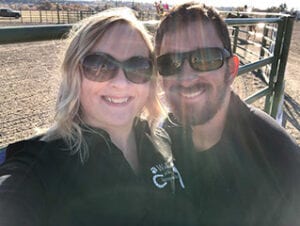 Dr. Stephanie Parent is a Colorado state-licensed human and animal chiropractor, specializing in equine chiropractic. She is also certified in animal chiropractic by the Animal Chiropractic Certification Commission (ACCC) of the American Veterinary Chiropractic Association (AVCA).
Dr. Parent earned a BS in Marine Biology from Texas A&M in Galveston, TX, and later graduated from Texas Chiropractic College in Pasadena, TX. During her last year in college, she attended ACES (Animal Chiropractic Education Source) in Meridian, TX, where she obtained over 200 hours of animal chiropractic training.
Dr. Parent is married to her husband Chris, owner and operator of HomeWise Inspections PLLC, and is the business partner and web site and tech admin. The family moved from Texas to Colorado in 2018 and has since built their family home out on the windy plains of Colorado.
Meet The Other Team Members
Chris Parent, Web/Tech Admin, Business Partner
As the business partner and web/tech admin for Walks of Life Chiropractic, I am committed to providing exceptional care for our patients and their families. I have a passion for technology and I enjoy spending many hours building and maintaining our website and online presence. In my spare time, I also enjoy working on our family home and creating a warm and welcoming space for all to enjoy. I am dedicated to ensuring that our patients receive the best possible care and I am always looking for ways to improve our services and make them more accessible. I am excited to be a part of the Walks of Life Chiropractic team and I am looking forward to meeting you and helping you on your journey to better health and wellness.